SBI doorstep banking service facility: Eligibility and other details explained
In order to contain the coronavirus pandemic, our country is under a 21-day lockdown till 14 April. In this shutdown, many bank account holders will find it difficult to visit bank ATMs. Although the central and state governments have allowed functioning of essential services which include banks. So in case you need cash during an emergency, banks will come to your door step to deliver the money. Country's top lender State Bank of India (SBI) provides doorstep banking services to its customers. The cash is delivered under its doorstep delivery services. This facility is currently available for senior citizens, specially-abled people. SBI account holders will be able to avail these services at select branches only.
SBI in a tweet said, "Our staff from Nagaon branch made sure that customers experience seamless banking service by providing them door-step cash facility. We shall fight this pandemic together."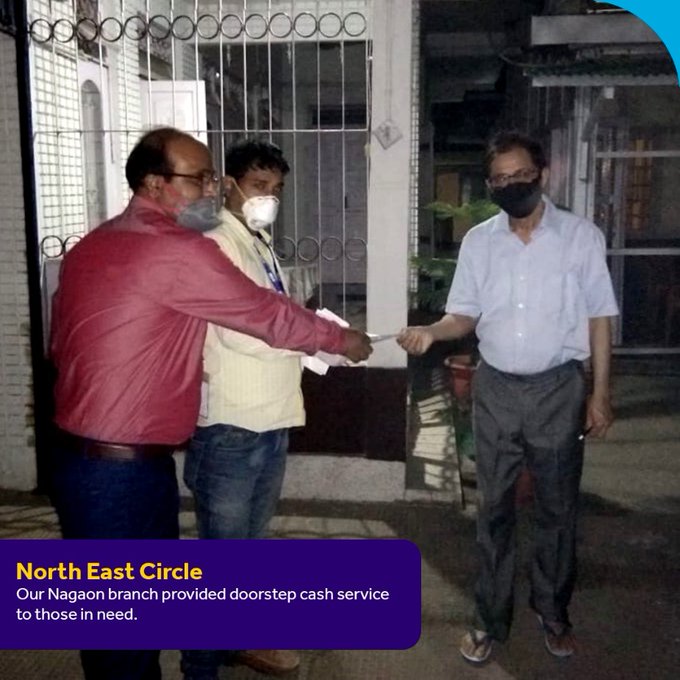 Here are few things you should know about SBI's Doorstep Banking (DSB) Services:
1) Doorstep banking service includes cash pickup, cash delivery, cheque pickup, cheque requisition slip pickup, form 15H pickup, delivery of drafts, delivery of term deposit advice, life certificate pickup and KYC documents pickup.
2) The service request can be made at toll free number 1800111103 between 9 am to 4 pm on working days at the centre.
3) The service request for registration is done at the home branch.
4) Doorstep banking service is available to only fully KYC-compliant customers.
5) Service charges per visit for non-financial transactions is ₹60+GST and ₹100+GST for financial transactions
6) The amount of cash withdrawal and cash deposit is restricted to ₹20,000/-per transaction per day.
7) Account holders with a valid registered mobile number within 5 Km radius of their home branch will be able to avail these services.
8) Customers with accounts that are operated jointly will not be able to avail these services.
9) The service will also be unavailable for minor account and accounts of non- personal nature.
10) Withdrawal will be permitted using cheque/withdrawal form with passbook.
Apart from SBI, banks like HDFC, ICICI, Axis and Kotak also provide doorstep banking services facility to their customers.
How will SBI doorstep banking services work:
SBI customers who need to avail this door-step delivery service should call toll free number 1800111103 between 9 am to 4 pm on working days from their registered mobile number.
Once the call is connected, customer shall input last 4 digit of savings bank/current account number for which doorstep banking service is registered.
After initial verification, the call shall be forwarded to Contact Centre Agent, who after second/additional verification, shall record the request.
The customer shall provide the detail of request and preferred time of service delivery ( 9am to 5 pm).
Once the request is accepted, the customer will get an SMS with Case ID and request type.
The request shall be forwarded to Doorstep Banking Agent who will contact the customer and fix an appointment.
At the given time, the Doorstep Banking Agent (DSA) shall visit the registered address of the customer and show his Photo ID card and officially valid document (OVD).
He will also verify the identity of customer through Photo ID and OVD of the customer.
The service request shall be initiated in the Doorstep Banking web portal in the mobile carried by the DSB Agent. Customer shall input Case ID and Verification Code in the web portal to initiate the transaction.
The customer will receive SMS for the completion of transaction.
Source:-livemint
Share: