Rs 2000 printing stopped? Will your note remain valid? All details here
Over two years after the launch of new Rs 2000 currency notes post the shock demonetisation decision, the government is said to have stopped printing them, according to a media report. A report by The Print says that the printing of Rs 2000 currency notes has been stopped in a bid to reduce their circulation. The government suspects that the high-value Rs 2000 notes are being used for hoarding, tax evasion and money laundering.
The report has, however, said that the Reserve Bank of India didn't confirm whether the printing of Rs 2000 has been stopped or not. As per the official RBI data, currency worth 18293.4761273436 billion was in circulation till March 31, 2018. Of these, Rs 6.73 lakh crore was in Rs 2000 notes and Rs 7.73 lakh crore in Rs 500 notes.
Subhash Chandra Garg, Secretary, Department of Economic Affairs, Ministry of Finance, Government of India tweeted today, "Printing of notes is planned as per the projected requirement. We have more than adequate notes of Rs 2000 in the system with over 35% of notes by value in circulation being of Rs 2000. There has been no decision regarding 2000 rupee note production recently."
The RBI annual report 2018 says that as many as 3,363 million pieces of Rs 2000 notes were in circulation by March 2018.
RBI date: Money in circulation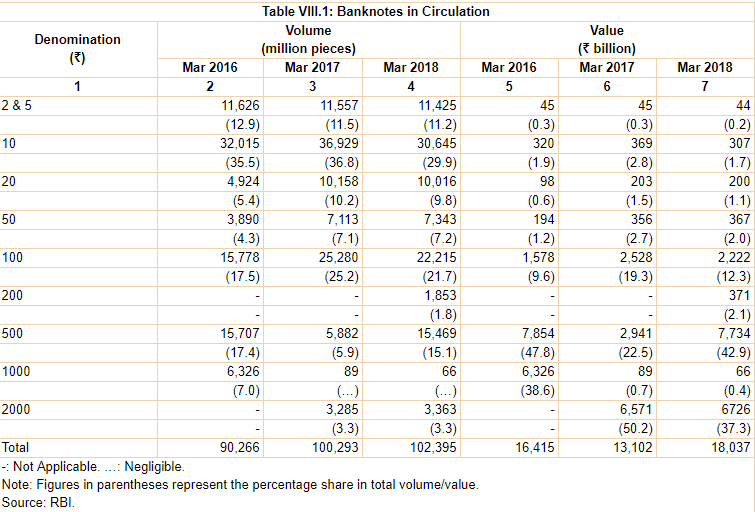 Will Rs 2000 note remain valid?
There is no need to panic. Rs 2000 notes will continue to remain valid even as its circulation will come down with the printing slowdown. Meanwhile, a PTI report claims that the printing of Rs 2000 has been reduced to the "minimum". And this is a usual practice to control the circulation of the money.
A senior official told the news agency that the RBI and the government from time to time decide on the quantum of currency to be printed on the basis of money in circulation.
The printing of 2000 rupee notes has been substantially reduced. It has been decided to limit the printing of 2000 currency notes to a minimum. This is nothing new," the official was quoted as saying.
Source:- zeebiz
Share: